On Saturday, October 4th, 1980, Tom Harman and Warren Chaney chartered the John Openshaw Society (JOS) of Houston, Texas. The first newsletter, The Pip's Log, announced (Vol. 1, No. 1) on November 30, 1980:

"The John Openshaw Chapter of the Baker Street Irregulars is established in memory of the former young gentleman from Horsham, John Openshaw, who, on September 29, 1887, brought to the attention of the master, Sherlock Holmes, the remarkable case of The Five Orange Pips. It was during this adventure, 'so remarkable in its details and so startling in its results' that the great State of Texas was brought to the attention of both Holmes and Watson. In particular, the barque Lone Star, a sailing vessel owned by the Johanssen Brothers of Savannah, but constructed at the Port of Galveston, is featured in a most singular fashion. It is only fitting that the Houston Chapter of the Baker Street Irregulars be named in memory of the man who gave his life, however indirectly, to advance the name of the State of Texas"
Over several years, the JOS scion grew to almost fifty members and held many interesting meetings. Sometimes they traveled to Galveston, Texas, where they joined the Strollers on the Strand scion and together enjoyed the distinctive Strand district, which is historically well-aligned with Sherlock Holmes. The two groups even enjoyed a trip to a submarine docked in Galveston while studying "The Bruce Partington Plans." Some JOS members also traveled to England: Dr. Warren Chaney made a statue of Sherlock Holmes that he and Tom Harman presented to the London Sherlock Holmes Society. They also gave a JOS membership certificate to the Sherlock Holmes Restaurant and Pub in London. Tom Harman and his wife Karen visited that famous London Pub many years later and verified that the Sherlockian certificate was still hanging on the wall; it may hang there still today. Over the years the John Openshaw Society membership has attended and/or collaborated with local Sherlockian plays, movies, conventions, museum exhibits, book signings (i.e. Laurie R. King), and more.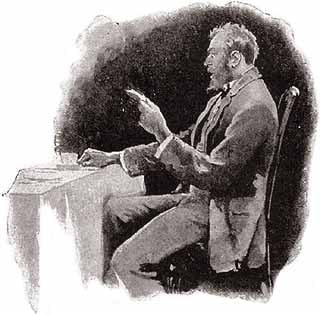 The recent resurrection of the John Openshaw Society (à la Holmes in "The Adventure of the Empty House", albeit somewhat less dramatically) has not only retained some of the original members, but also attracted newcomers interested in Sherlockiana. The society has taken advantage of social networking sites (such as Facebook) to expand membership and strengthen connections with fellow societies. The development of the official website has also been instrumental, along with posters distributed at local theatres, museums, and bookstores (including the wonderful Murder-by-the-Book bookshop!), in spreading the word and reaching out to more fans. Our members come from a broad range of vocations, from engineers and professors to artists and actors, and from Sherlock Holmes connoisseurs to passionate newcomers. Whether discussing possible land erosion at Reichenbach Falls, or to questioning the date of the typewriter used by Dr. Watson in the recent Sherlock Holmes movie, whether raising our glasses to Professor Moriarty or Mrs. Hudson, the John Openshaw Society is a place for those who have read the stories and thought "I want to read these again," for those who have watched the shows and thought "I want to watch these again," for those who have visited 221B and the moors and thought "I want to visit here again," and for those who have done all of these and thought "I want to share all of this with someone!"
Ken Rozek, a long-time devotee of Sherlock Holmes, has quietly collected Sherlockian philatelic material for many years; his collection includes stamps, first day covers, and various cinderella items. Over that time period he made contact with many Sherlockians via email, snail mail, eBay, and other channels. One of those Sherlockians was Peter Blau, who has been a n invested Baker Street Irregular ("Black Peter") for over forty years. Peter continues to travel the United States pursuing geological conferences as "a practical, but limited, geologist." Every few years, one of these geological societies meets in Houston, Texas. In the spring of 2011, Peter and Ken discussed several Sherlockian ideas over dinner. One of those ideas was to re-activate the John Openshaw Society scion in Houston, Texas.
The first reactivated JOS meeting was held at the Red Lion Pub in June 2011. Eight people came that night; over a few drinks and an English meal, we began to formulate plans for the  reinvigorated scion. After a meeting or two, we hit upon a format that serve as the society's traditional routine up until the COVID-19 pandemic: the group would meet on a Sunday evening every other month, usually at a local English pub, unless a play, movie or other activity took priority. We'd share a few toasts and Sherlockian gossip, devour a meal, and enjoy a presentation by a member on a Holmesian theme. Then we'd take a quiz from a story in the Canon and wrap up with a limerick from Issac Asimov and a reading of the poem "221B" by Vincent Starrett.
For the meeting in August 2011, the group met at the Ruggles Café in the Montrose area to enjoy a travelogue presentation by Tom and Karen Harman about their recent visit to Great Britain that included visiting many places of interest to Sherlockians, including the 221B location in London. The quiz that night was on "The Five Orange Pips", the story from which the group took its name.
In October 2011, we reconvened at Ruggles Café for a travelogue presentation by Ken Rozek about his recent visit to Reichenbach Falls near Meiringen, Switzerland. Members could almost feel the spray on their faces as they pondered if the location of the precipice has been moved by erosion, or by some other means, from that which is depicted in Paget's image. Our quiz that evening was, naturally, about "The Final Problem."
For December 2011 there was a group outing to the showing of the Robert Downey, Jr. movie Sherlock Holmes: A Game of Shadows followed by a trip to the Black Labrador Pub on Montrose Avenue to discuss the movie together and a quick quiz about "The Blue Carbuncle," an appropriate story for the Christmas season. The Churchill Room downstairs at the Black Lab proved to be an ideal location for JOS meetings, and it quickly became the group's favorite regular meeting place. It boasted a variety of English beers, not-bad prices, and a broad menu including perennial British favorites such as shepherd's pie, bangers and mash, bubble and squeak, and traditional fish and chips.
For February 2012 it was back to the Black Labrador for another travelogue presentation by Ken Rozek about his recent visit in January to New York City for the 158th Sherlock Holmes birthday celebration. Ken explained and showed us in pictures how fellow Sherlockians eat, drank, and made merry over five very chilly days. Our quiz that evening was on "The Speckled Band."
In March of 2016, leadership responsibilities were handed over to Brian Clark, another long-time Sherlockian who came to the fold after finding a copy of the Canon on his grandmother's bookshelf in his preteen years.
Fast forwarding to 2018, the society was delighted to collaborate with The Houston Museum of Natural Science (HMNS) to promote the clever and captivating traveling Sherlockian feature known as the International Exhibition of Sherlock Holmes, created by EDG and Geoffrey M. Curley and Associates. It spent the summer of 2018 at the HMNS before moving on to enagements elsewhere around the globe. Our involvement with the HMNS and the IESH included outreach brainstorming sessions with the exhibit's designers, providing speakers for a series of Sherlockian lectures at the museum, and hosting Sherlockian trivia nights at local pubs. In addition, a number of JOS members became museum docents and worked the exhibit on a regular basis.
Our last in-person meeting following the scion's original formula took place on 26th January 2020, and our March 29th meeting was canceled on account of the COVID-19 pandemic. The Pips met via ZOOM on 8th May, and our first virtual meeting took place on 24th May 2020. Over the months of the pandemic we met a bit more frequently, and like many other Sherlockian scions, our community grew to include numerous Holmesians from far beyond Houston. We continue to meet regularly via ZOOM since this virtual format allows us to take advantage of the many excellent presentations given by friends from the broader Sherlockian universe, but we also do regular in-person outings for plays, movies, brunches, and the like.
We've been very pleased with how the society has continued to thrive and grow, and we have some exciting activities planned for the next few years. Events are generally published via the group's Facebook page and via an email distribution list. We welcome you to contact us for more information!
In keeping with a tradition inherited from the original John Openshaw Society, the reactivated group is administered by several officers, known as Pips.
First Pip [coordination, facilitation]: Brian Clark
Second Pip [communications]: Ipek Bozkurt
Third Pip [quiz master and more!]: Caryll Garfield
Fourth Pip [treasurer, logistics]: Vijay Kale
Fifth Pip [webmaster extraordinaire]: Michael Coulter
Ken Rozek, Tom Harman, and the current Pips have contributed to this article.